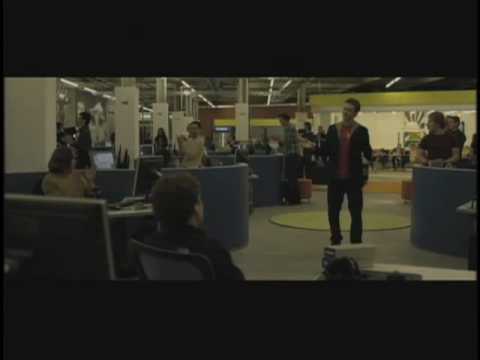 Let's face it, the internet has replaced the stock market as the new means to make money without really doing anything. At first glance, the Social Network looks like your typical story about young intelligent kids too cool for school who succeed in a get rich quick scheme before they ruined their friendships and sense of trust in the process.
Director David Fincher (Fight Club) with screen writer Aaron Sorkin (West Wing) team up to adapt Ben Mezrich's book about the founders of Facebook, the Accidental Billionaires. Facebook has changed the fabric of socializing and networking in America for better or for worse. Ever get sick of the girl who uploads a thousand pics of herself hugging someone or something? Ever wonder why people get torn up socializing with someone they never met in person? The exposure is undeniable but impersonal. Trying to meet people on facebook is about as exciting and fraudulent as interacting with an IKEA online catalog but it engages people by linking any two people on the planet. It's also a huge waste of time.
Personally, I don't have a facebook account. My life isn't that exciting and who really wants to see pics of me as I grow older? It would be equivalent of the scene in the movie Seven where the drug abuser has his pic taken sequentially till he's a malnourished corpse.
Regardless, I don't think it'll be a bad movie but utterly predictable because we all know where facebook is today. I think it's impossible to condense how facebook has affected human interaction especially when it comes to dating. Checking a woman for an adam's apple in a bar was hard enough, today I am trained to scrutinize every sentence every time an account claiming to be female commented on my favorite websites. I don't like the internet as a means of socializing but I understand its value as a networking tool. There's just no substitute for human companionship and intimacy but I know people who continue try.
That said, I am curious to see how Sorkin's snarky dialogue leaves trails of smoke as these characters go from buddies to your typical bloodthirsty, power hungry adults. Jesse Eisenberg who commanded Holy Rollers and has shown promise since Roger Dodger, will have his ultimate chance to bring the hammer to a role. From The Imaginarium of Doctor Parnassus, Andrew Garfield has a chance to convince me that the studios weren't out of their mind in picking him to be the new Spider-man.
The Social Network opens on October 1st.
-Ron